In January or February 2019, I decided that Gumby was starting to show its age with all the miles I put on it.  So I decided to start looking for a more comfortable car that would be a good highway cruiser.  Having had so few troubles with Gumby, I decided to look for a slightly bigger Mercedes along the lines of a mid-2000s E-class or S-class.  After a few months and looking at a few of them, I was lucky enough to find this beautiful 2004 Mercedes S430 4matic in almost pristine condition even with its 107k miles on May 2nd, 2018 from a nice couple in Pennsylvania.
May 2018: the front OEM orange markers were replaced with clear markers with a chrome-colored bulb.
Also in May 2018, the windows were tinted to Ohio's legal limit.  Although not as dark as I wanted, the end result is that the car will stay cooler on sunnier days and the leather upholstery will suffer less too.
June 2018: I installed K&N free-flow air filters.
Also in June 2018, I installed an Android head unit in place of the original radio unit.  It allows me to get on the internet for music, maps, news, etc.  It also allowed me to mount a discrete little rear-view camera near the license plate for backing up.  It's very convenient since the windows are now tinted and barely noticeable.  See it here.
July 2018: My girlfriend bought me a rear AMG-style spoiler and it was painted to match the original paint.  Prior to installation, I de-badged the rear trunk lid of its S430 & 4matic lettering.  I've always liked the way it gives the car a clean look.
Also in July 2018: I bought a used front grill and modified it to fit a Mercedes R-series star and removed the hood-mounted star with a button-style Mercedes badge.
August 2018: Mounted some aftermarket rims, but kept the same size 17″ diameter as the originals to keep the original ride comfort (I still have the originals stored away).
Also in late August 2018: Adjusted the electronics in the car so that the cooling fan comes on 5 degrees sooner.  It helps the car a little bit in slow traffic and seems to keep the car running at no higher than 85 degrees.
December 2018: Installed a dashcam that records both front & rear in high definition HD video.  My parents were in an accident in early November 2018 and it got me thinking.  (The parental units are okay.)
April 2019: Upgraded the headlight bulbs to HID Xenon for the low beams and LED bulbs for the high beams.  They're both at the 6000k level and it really helps and the low beams don't blind oncoming drivers.  However, the LED high beams have an awesome range.  In the near future, I also plan on switching over the fog/driving lights to yellow LEDs to help more in fog.
June 2019: Installed a trailer hitch receiver & wiring converter.
July 2019: Installed LED driving lights.
Also in July 2019: I  lowered the front end driving height approximately an inch using at first washers to gauge the look, then using MB-Star to properly lower it via the onboard controls without using washers.
September 2019: Alternator was replaced.
October 2019: Front left airmatic strut develops a leak, so both front airmatic struts were replaced with Arnott units.
February 2020: PSE pump failure due to a fracture leak in the trunk release assembly.  Acquired a used PSE pump in excellent condition and swapped the circuit boards.  Fracture leak was fixed using epoxy.
April 2020: Front driveshaft started chirping like a banshee due to a damaged universal joint, replaced with a Dorman serviceable replacement driveshaft.
July 1st, 2020: Front license plate removed as allowed by an Ohio law that was passed in early April 2019.  🙂
Future plans:
Installing new rear mufflers which will necessitate modifying the rear bumper lip.  Single oval style tips are part of the new mufflers and I want to try to make them look as factory as possible.
Painting the brake calipers or possibly replacing them with AMG calipers & rotors.  I'll probably start by painting the calipers since it's the less expensive option for the time being.
---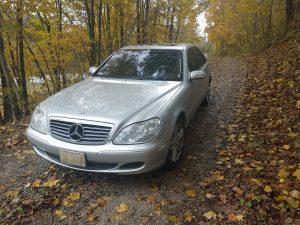 ---
---
The Best or Nothing
---
The Best or Nothing